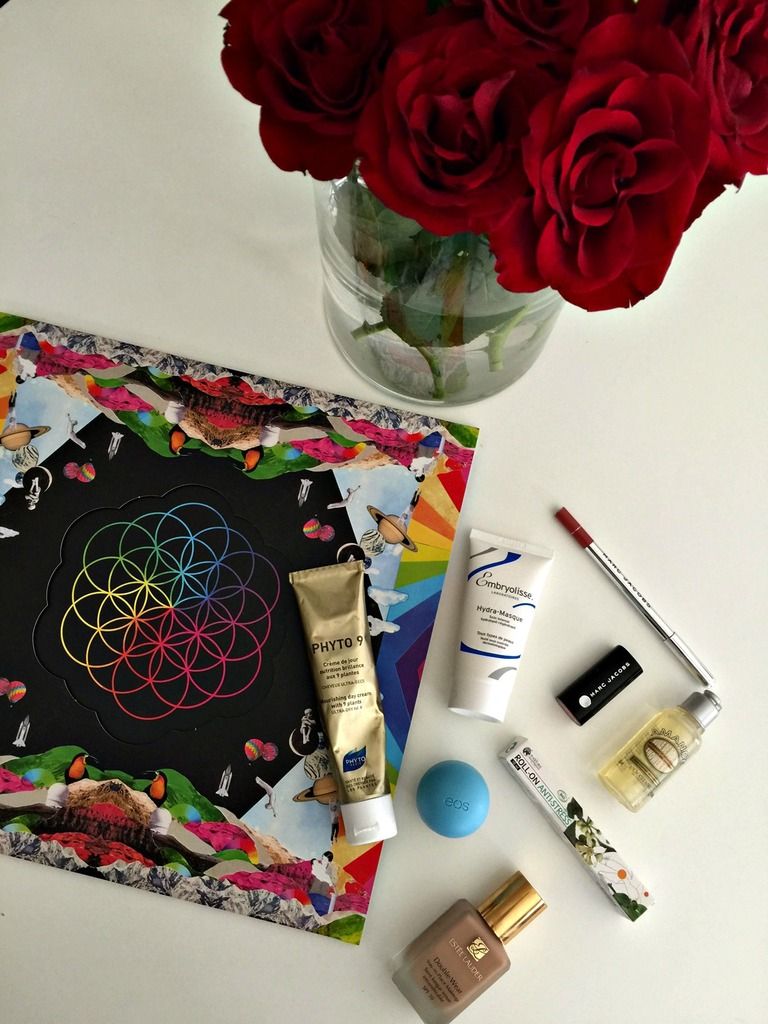 I love reading favorite's posts but every time I try to compile one on a monthly basis I realize that I do not really switch up my favorites that often. If I like a product enough to make it in my personal favorites, chances are that I'll still be loving it for a long while. So instead I'm compiling a seasonal edition including products that I have been loving lately. I also didn't want to limit myself to solely beauty products but rather expand the list to also take into account other things that I have been enjoying as well so as to make it more accurate.
Marc Jacobs lip pencil in Prim (rose). I love this both with on its own as well as under lipstick. It's the perfect nude shade. Not too pink not too brown.
Marc Jacobs lipstick in 216 Kiss Kiss Bang Bang. This has been my go to lipstick and most of the time I'd wear this over the lip pencil mentioned above. This is a deep rosy nude shade that works great with fair complexions. I had quite a rough start with Marc Jacobs makeup line, thanks to Sephora's terrible customer service. But ordeals apart the three products I tried from the brand all turned out to be great. I'm looking forward to explore more of the brand's line.
Phyto 9 Day Cream. I recently decided to have balayage done to my hair. After a decade of sporting dark hair, switching over to the light side also meant a change in hair care would be due. At this time of the year my hair gets drier. Add that to the light balayage and the dryness is even more evident. So I decided to give this hyped product a go and it worked wonders. I apply a dab of this product on my hair daily from the shoulders down, expect on the days when my hair is freshly washed. I stir away from products that weigh my hair down or feel greasy and this one does neither. It is easily absorbed. Just brush it through and the hair is softer and still feels light.
Roll on Anti Stress. I love using essential oils but normally for fragrance purposes around the house and not directly on my skin. I decided to give the roll on range by Nature et Decouvert a try and may I say I'm obsessed. I tried two so far and both have been fantastic. These roll ons feature a blend of essential oils that target specific needs. The one pictured is intended as a stress relief oil. These are quite cheap to. All you need to do is dab a bit on the temples and on the wrists. These are very practical and can be easily carried in your bag.
EOS Lip Balm. I got two of these lip balms just before the brand made headlines in the media for causing severe breakouts and reactions on several people. I was considering not even bothering with these but I gave them a go and am glad I did as they didn't break me out at all. If you follow my blog you might know that I swear by Nuxe lip balms but after trying EOS I have to admit I'm loving these ones too. They are fragrant, moisturizing and the fact that the range has different ones available makes it fun.
Embryolisse Hydra-Masque. I love the popular Embryolisse moisturizer and wanted to try out something new from the brand. I picked up this face masque and have to say that this will probably be a staple in my routine. This mask is fantastic. It feels really refreshing once applied and after 15 minutes I get a very moisturized and soft skin.
L'Occitane Almond Shower Oil. I used to swear by this oil back then and went through several bottles of it. I found this mini sized one in the L'Occitane's Advent Calendar and it has rekindled the love I had for this. It smells heavily of almonds and makes the skin very soft.
Estee Lauder Double Wear Foundation. I seem to get paler by the day and none of my foundations were being an exact match so I decided to switch it up a bit and try something that would be able to stay put for hours. I was weary this would end up oxidizing on dry patches but it's been perfect. The coverage is heavier than I normally opt but for what its worth I'll take it! This lasts on for hours without having the need to blot or retouch. The only downside is that this doesn't have a pump.
What most people reading this post do not know is that apart from beauty and fashion I love video games too. Although I'm not a die hard gamer I love having the odd game to unwind to. Unravel has been released very recently. I gave it a go and I've been loving it. This one is only available to purchase on the Play Station store

Winter, too cold to bother months also mean there's plenty more time indoors to spend watching Netflix. I have been hooked on Modern Family and Better Call Saul. The irony of it all being that I strongly disliked both at the very beginning. Thank God for persistence. I'm hooked!
Coldplay A Head Full of Dreams Vinyl. This has been the album that's been playing the most in this household. Although not a die hard fan of the band I do love their work. I'm loving the artwork on this album too.