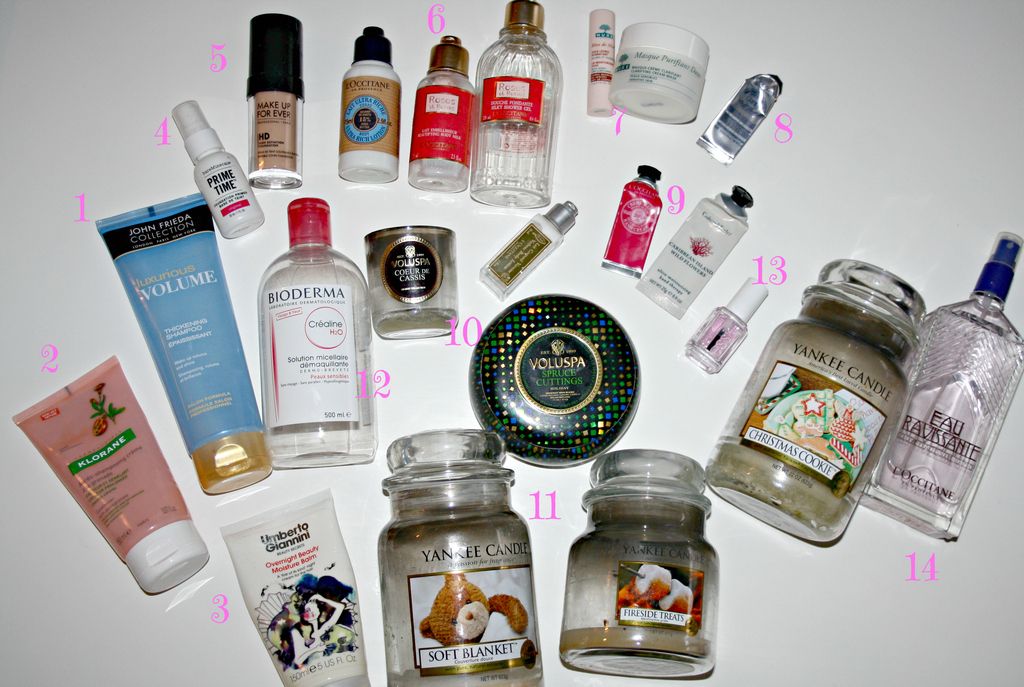 1. John Freida Luxurious Volume Shampoo. There's nothing luxurious about this one. It dried out my hair and made it frizzy. There were no signs of volume either. Gave up hope after a couple of times and ended up emptying its contents.
2. Klorane Pomegranate Conditioner. I love Klorane's products, they are my quick go to hair care. I prefer these scents better in the summer months though.
3. Umberto Giannini Overnight Beauty Balm. This one was foul as an overnight beauty balm. It's greasy and generated a mess no matter how little I applied. The only suitable way I managed to find to use this one was as a pre-wash mask. I'd apply this fifteen minutes before washing my hair and rinse it off. It didn't work wonders anyway though.
4. Bare Minerals Prime Time foundation primer. This worked wonders. It had a silicone type texture which would take a short time to dry. I loved the application nozzle too, it makes less mess than the standard squeeze tube and makes it easier to control quantity required.
5. Make Up For Ever HD foundation. This one is no longer available as it's been replaced by the Ultra HD version which I have no intention to try out any time soon. Although I liked this one I've come to much prefer the Mat Velvet + foundation by the same brand.
6. L'Occitane Ultra Rich Body Lotion. As much as I love L'Occitane's body lotions, this one is not one of my favorites namely due to the scent. The formulation is great though.
L'Occitane Roses et Reines Body Lotion and Shower Gel. I loved this duo. Contrary to the product above, this scent happens to be one of my favorites from L'Occitane. I would repurchase these in a heartbeat.
L'Occitane Verbena Body Lotion. I've gone through bottles of these. I love this best in the summer months as the scent is really citrus-y and invigorating. The texture is quite runny which makes it great for hot summer months too.
7. Nuxe Lip balm.
My love for this brand keeps on growing. I've already blogged about this lip balm
here
.
Nuxe Masque Purficant Doux. I loved the rose scent and the texture but sadly this was not extraordinary for my skin. It felt refreshing and smoothing but nothing worth repurchasing.
8. L'Occitane Ultra Rich Face Cream. I tend to avoid using any rich face creams as my skin doesn't really need that much moisture but this was one product I found in the advent calendar so I had to give it a go. Turns out I pretty much enjoyed this. Although it's rich it's not too rich to the point where it gets to be too much for my skin. The texture is slightly thick and the scent was fine.
9. L'Occitane Delice De Roses hand cream. I love this brand's hand creams and this one was no exception. The scent is not invasive but not too subtle either and the texture is just perfect.
Crabtree and Evelyn Caribbean Island Wild Flowers hand cream. This one was a pleasant surprise. I loved the scent and the texture. Contrary to the L'Occitane ones the texture is rather runny and so i ended up using this one quite quickly.
10. Voluspa candles. Coeur de Cassis was the first votive I tried from the brand and I ended up avoiding using it just because Ididn't want to use it up. Eventually I did end up using it and enjoye the scent immensly. I later picked up Spruce Cuttings which has been perfect for the Holiday season. Love Voluspa!
11. Yankee Candles: Soft Blanket is a favorite of mine and I always end up repurchasing a couple through the year. It smells just as described, as a soft freshly washed blanket. Christmas Cookie is my Holiday favorite from the brand and always stock backups. It was the first time I burned Fireside Treats and while I liked it it is not a scent which I would repurchase, only because I'd rather try out something new.
12. Bioderma Micellar Water. This is my daily first cleanse to remove makeup. I've used it for years and will keep on repurchasing.
13. Essie Good to Go Topcoat. This is my go to topcoat for shiny nails which stay chip free for around 3 to 4 days. I tend to repurchase this as soon as I'm halfway through the bottle.
15. L'Occitane Eau Ravissante. I bought this around a year ago and used only months ago. Sadly the bottle is still almost full but I had to toss out solely because for some reason this just went bad. There is no fancy smell, just a nasty trace of an alcoholic solution. This has been the most disappointing product from L'Occitane and has put me off purchasing other perfumes.