Looks like I missed out on several empties posts, so this month's boasts an accumulation of products.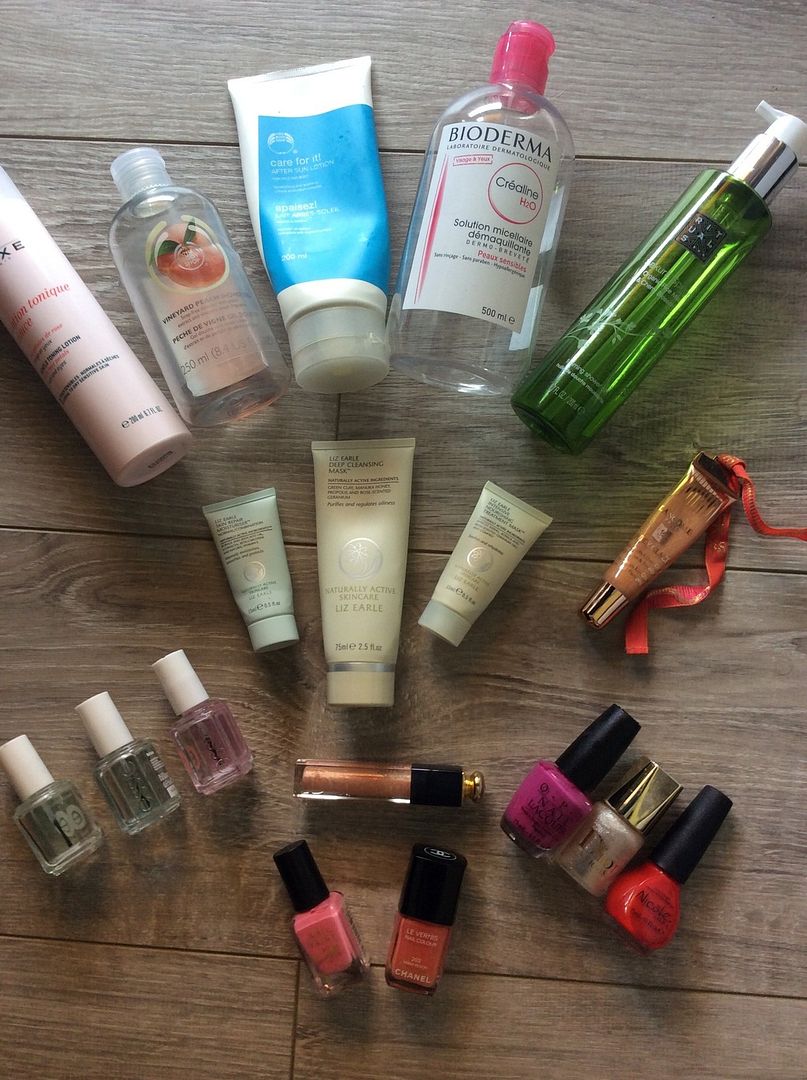 Bioderma H20 micellar solution- This pretty much features in most of my monthly empties. A staple in my regimen that I cannot replace.
The Body Shop After Sun Lotion- Did it's job well but for some reason I seem to gravitate towards La Roche Posay more when it comes to sun care products.
Liz Earle Deep Cleansing Mask- Clay masks are my favorite out of the bunch and this one was fantastic. The smell wasn't a string, didn't itch or irritate me and cleaned up those pores well. Fantastic mask!
Lancome Icy Glace Lip plumping gloss- I'm throwing this one out as I haven't used this in ages. Quite like the packing but not a fan of the shade and the shimmer.
Dior Addict Ultra Gloss- I love the packing. Again, however, not big on the shimmer. Apparently I liked shimmer sometime ago but no anymore. Bin!
Essie First Base basecoats and Good to Go topcoat. My HG when it comes to basecoat and topcoat. Already repurchased and will probably keep on doing so for a while.
The Body Shop Vineyard Peach Shower Gel Love! This has been my last backup of the scent. Fingers crossed I'll find it again.
Rituals Sakura Spring foaming shower oil. Loved this one. I love using oils shower gels during the colder months but this vherry blossom scent has been fantastic in summer. The pump was quite handy as well.
Nuxe Lotin Tonique douce- After using the cleanser from the same range and loving it I had high hopes for this one, but sadly it was just an average toner with the added bonus of a nice scent.
Liz Earle Intensive Nourishing Treatment Mask- As much as I love Liz Earle's products this mask was just an average mask. What I find great is however that I got this one in a sampler size to try out before shelling out on the bigger tube.
Liz Earle Skin Repair Moisturiser (normal/combination skin) I've used this moisturizer for a long while now and have backups of this This is actually the travel size one I used up while on holiday. It doesn't do anything extraordinary but does what it's meant to do- keeping the skin moisturized. I use it on a daily basis, and it doesn't feel heavy or greasy.
I recently did a mini nail polish purge as I was replacing the storage box and tossed these ones out:
Nicole by OPI (Kardashian Kollection) Kourt is red-y for a pedi. Love this shade, the only downside being it chipped quicker than the standard opi red shades.
OPI I'm india mood for love- This was one of my favorites. Loved everything fromt he shade to the consistency.
Chanel Miami Peach- Pretty shade and lovely packing but as with most Chanel nail polishes they chip annoylingly quickly and bother me to the point that I'm not even tempted to purchase.
Dior Dolly Pink- This one is in the old packing and I loved the light shade However since I haven't reached out for it in a while it's off to the bin.
Barry M Nail Paint 279 Bright Pink. What was I thinking? Bin!