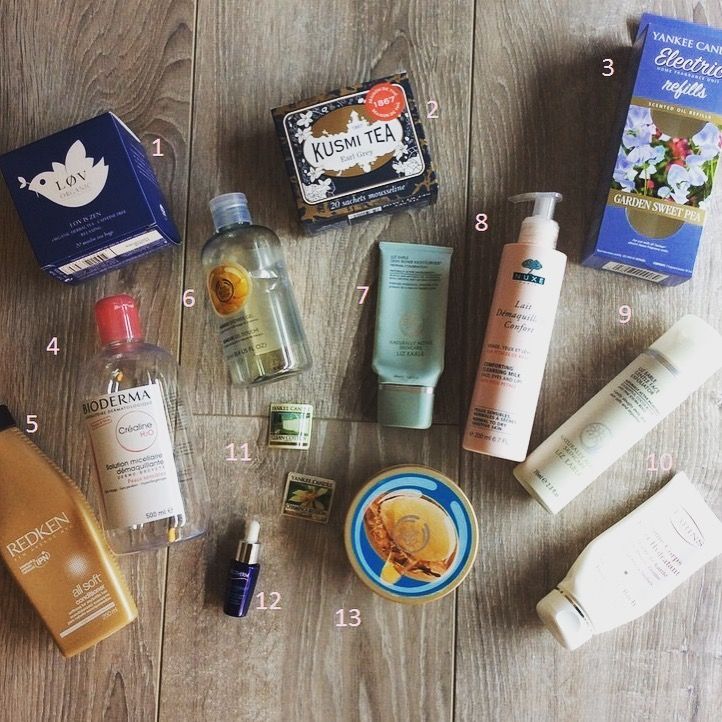 1. LOV Organic Lov is Zen tea. This Rooibos blend has apple pieces, lemon, caramel and blackberry. I personally prefer Rooibos in the colder months. This particular blend wasn't one I would pick up often as fruity blends aren't normally my preferred pick.
2. Kusmi tea- Earl Grey. This is one tea I always tend to have. Kusmi's tea bag presentation is excellent. You get tea leaves in muslin teabags, and the teabag format makes it easier to have when you don't want to wait for tea leaves to infuse in a sifter.
3. Yankee Candle Electric refills in Garden Sweet Pea. This is one of my favorite scent from the brand. These refills have lasted me over a month each and considering they are continuously emitting scent that's quite good value for the price you pay on these.
4. Bioderma Hs20 micellar water. I think I feature this one quite regularly on these empties posts.
5. Redken All Soft conditioner. Really enjoy this one. It did deliver soft hair without making it greasy.
6. The Body Shop Mango shower gel. Being the mango fanatic that I am this one was a no-brainer. Loved it to bits!
7. Liz Earle Skin Repair Moisturizer for Normal/Combination Skin. I have quite a few backups of this one. For starters the slim tube is really handy to use when travelling. The product itself is quite lovely. This didn't do anything dramatic to my skin. It's just a regular nice daily moisturizer to keep skin hydrated.
8. Nuxe Comforting Cleansing Milk. The moment I used this up and started using another product I was already missing this one. I loved the consistency, how it made my skin feel clean and the rose scent. I'll definitely be picking up another one these on my next french pharmacy trip.
9. Liz Earle Gentle Face Exfoliator- Loved this! It has eucalyptus, which I normally tend to stay away from as usually the scent alone would irritate my eyes, but this one did not. The scent is not heavy and didn't bother me at all. The consistency is quite creamy and somewhat thick which made it easy to rub n and rinse.
10. Clarins Moisture Rich Body lotion. This one's a winner. The scent is pleasant and delivers what it says- moisturized and soft skin.
11. Yankee Candle wax tarts in
Clean Cotton; I found this to be quite average. The concept is lovely, especially to burn in Spring but I'd pick Soft Blanket or Fluffy Towels any day if I'd want the clean, fresh laundry smell.
Champaca Blossom: Way back when this collection was released I had the jar format in this scent and as I remember that I had enjoyed it I picked this one up again. It's nice and light but I'd pick other floral scent with a heavier throw.
12. Biotherm Blue Therapy Serum. I got this as part of a Biotherm freebie from Sephora and this turned out to be my favorite out of the blue therapy bunch. I love it when customers are provided with deluxe sample sizes and even more so, bottles which look good as this. I loved Biotherm and used them religiously years ago so I was pleased to try out a new range I never got my hands on before. I tend to stay away from serums, especially in Spring and Summer, mostly because my skin doesn't it need serums and also because they tend to be too heavy for my skin. The Blue Therapy range is aimed to repair visible signs of ageing, which at 26 I should be concerned about. I haven't however shifted my skin care towards that aim but I'll most certainly keep this serum in mind when I do. The serum has the typical serum consistency and feels like velvet on the skin. I didn't feel heavy or greasy both following application or in the morning, well after it's absorbed. I only used this one at night, although this can be used both morning and evening.